How directors and boards can take great strides in their understanding of Strategic Marketing.
"I just wanted to express my appreciation for your course today which was extensive, authoritative and engaging - thank you."
Attendees on this interactive video course will be more effective in engaging with board level commercial teams over matters of marketing strategy - they will be able to more easily:
Understand the relationship between strategic marketing and company vision and mission;
Obtain clarity on strategy selection from both internal and external perspectives;
Provide constructive challenges to the commercial team;
Identify potential problems and corresponding solutions.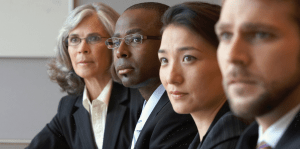 If you have ever wondered what strategic marketing is, and how it relates to the businesses with which you work; or if you have sat in board meetings wondering what on earth the marketing director was talking about, this course will be a great start in building your marketing knowledge and increasing your confidence in the subject.
This half-day interactive video course is aimed at Board members - both Executive and Non-Executive Directors who are not marketing specialists and covers essential knowledge about strategic marketing to enable them to ask the Marketing Director the right questions and, most importantly, understand the answers they are given.
Who should attend?
Individuals who are currently executive or non-executive directors; those seeking appointment as an executive or non-executive director and those looking to progress to a marketing director role.
Course Leader: Duncan Hall FCIM
The course is delivered by Duncan Hall, an energetic business leader, with significant experience in sales, marketing, business, product, and process development gained in both start-up and corporate environments.
Duncan is also a certified trainer/facilitator/coach of corporate continuous process improvement and customer experience programs.
See his LinkedIn profile here: (https://www.linkedin.com/in/jduncanhall/)
Key Details
Duration: 1/2 day
Location:
Price
£250.00 (ex VAT)
Payment with Booking Price
£220.00 (ex VAT)
NEDworks Tier1 Member Price
£195.00 (ex VAT)
Book Now
To see course dates and to book your place now follow this link:
Course Registration
The fee includes a downloadable copy of the course handbook
Attendance counts as 4 CPD hours of structured learning
---