Chair - Thirteen Group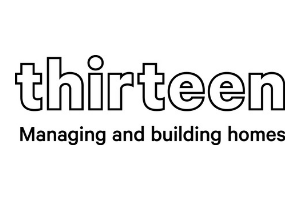 Employer: Thirteen Group
Location: Middlesbrough, North Yorkshire
Salary: Remunerated
Closing date: 28 Oct 2021
As a charitable not-for-profit housing association, Thirteen exists to provide housing and support services across the North East of England and Yorkshire. We are here for anyone who needs a home and maybe a helping hand too. We work to improve the fabric of places where our customer live.
Today, we own over 34,000 properties and manage over 35,000 homes. Our 1,600 colleagues provide services for more than 72,000 customers – but we're more than just a landlord. We are all about providing homes, support and opportunities to grow, and our vision is of a caring landlord and housing developer, which recognises everyone as an individual. We go beyond bricks and mortar, and our range of extra services means we can give people a helping hand specifically tailored to them if they need it.
Strong and improving operational performance and a culture of inclusivity with customers and colleagues means that our range of partnerships and impact is increasing but there is always more to do. Over the next five years we will invest over £1billion to improve our services, tenants' homes and their neighbourhoods, as well as delivering new affordable homes.
It is against this background, and in this time of change and opportunity, that we are looking for a new Group Chair, as George Garlick prepares to step down after 6 years of outstanding service.
For this role we would welcome interest from people who have held leadership roles in large and complex organisations in any sector, and who have sufficiently substantial non-executive experience to land with confidence as our Group Chair.
Most importantly, we are looking or a Chair who connects with our values and those of the social housing sector, and who strongly believes in the role we play in supporting communities and individuals to thrive. It will be important that our new Chair brings an understanding of regulated settings (not necessarily housing) and has the commercial and financial acumen to help lead what is a £186m turnover organisation, with assets close to £1bn in value, and range of partnerships across the private and public sectors. Our Chair needs either to know our patch already or be really excited about getting to know it, and spending time across the different parts of our footprint.
The precise remuneration is under review but will be in the region of £20,000. There are generally 5 main board meetings a year held in our offices close to Middlesbrough station, with additional Committee meetings and strategy days, plus webinars and other board events also taking place in typical year. We expect the total time commitment to average around 2 days a month.
At Thirteen, we like to be inclusive, looking at things from different perspectives to drive innovation. We have a clear intention and need to diversify our board over the coming years so we would like to very warmly encourage applications from individuals in under-represented groups, such as young people, women and people from ethnic minority backgrounds, to come forward for a conversation.
Saxton Bampfylde Ltd is acting as an employment agency advisor to the Thirteen Group on this appointment. For further information about the role, including details about how to apply, please visit www.saxbam.com/appointments using reference JATAAB. Alternatively telephone +44 (0)20 7227 0880 (during office hours). Applications should be received by noon on Thursday 28th October 2021.